It's well known that Denver has a wild history in the Old West. But, a lot of city slickers think that the modern vibe has taken away any feelings of wandering the prairie like the good old days. Fortunately, that's not the case!
Grizzly Rose isn't the only place where you'll fit in with boots and a cowboy hat, so why not check out these Old West experiences spread all over Denver?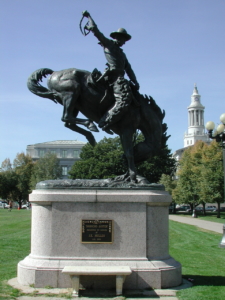 The Anschutz Collection at the American Museum of Western Art shows off art from the Old West. However, the artwork includes anything on the subject of the time period, not just art that was produced back in the 1800s. There are hundreds of paintings by quite a few different artists, and they have a wide range of topics depicting the various aspects of life before the industrialization of the country.
This museum is worth a visit, even if you're not interested in the collection, because the building itself is a historical treasure. The Navarre Building was opened in 1880 across from the Brown Palace, and it started its life as a school for women. Ironically, it later turned into a sort of bordello where men could dine with prostitutes and take part in a bit of gambling. It's really an ideal setting for art about the Wild West.
This museum grew out of the childhood experiences of founder Paul M. Stewart. When playing "Cowboys and Indians" with his friends, he was always forced to join the second group because his friends claimed there were never any "black cowboys." As he grew up, he learned that roughly one third of cowboys were actually black, and he created this museum that focuses on their lives, as well as the various jobs they did.
This museum in Golden is technically outside of Denver, but it has a view looking down on the city, so it's close enough. William F. Cody was one of the most famous men of the period, and he solidified this reputation with his traveling Buffalo Bill's Wild West shows.
If you're concerned that it's nothing more than a fancy gravestone, then stop your worrying. There's also a nice museum with exhibits about Buffalo Bill's life and other various issues of the era. It's not quite the same as seeing one of his old performances, but the peaceful feelings on the mountainside make it worth it.
If you think about it logically, it shouldn't be a surprise that the Denver Art Museum would have a major section dedicated to art from the Old West. The collection is made up of pieces by quite a few well-known artists, and there are works by contemporary artists as well as those from the time period.
Have you ever seen the oldest standing structure in Denver? If you haven't, it's time to head to Four Mile Historic Park. This house was built on the banks of Cherry Creek in 1859, and it had a series of owners in the first few years. When visiting, you can also check out animals and other exhibits on the 12 acres of this old farm.
History Colorado is a historical society that's done an amazing job of adapting to the modern times.  They try to preserve the past and educate the public about it, and this interactive museum is a really fun way to immerse yourself in the history of the state of Colorado.
This was the home of Molly Brown, a woman most famous for surviving the sinking of the Titanic. She was living in the mining town Leadville with her husband, a mining engineer, and he managed to find a gold discovery that put them into some great wealth. Visiting this museum can give you a good idea of how the rich classes lived in the Old West, and it's an interesting change compared to the dusty lives of cowboys and gunslingers.
This one is more of a living museum, but it'll give you another chance to see the kind of luxury brought around for the rich folk back in the day.  A lot of people became extremely wealthy in the Old West because of mining, railroads, and other major industry booms, and they needed a place to stay when they shuffled around the country.  This hotel was built in 1892 to serve that purpose, and it's seen its fair share of rich and famous visitors over the years.
Time to Go Exploring!
That covers a lot of the major Old West museums in Denver, but there are plenty of smaller experiences and events that you can visit to take a trip back in time.  So, what are you waiting for?  Saddle up your horse and ride off into the sunset!
https://grizzlyrose.com/wp-content/uploads/2016/07/Molly-Brown-House-554x368-1.jpg
368
554
admin
https://grizzlyrose.com/wp-content/uploads/2020/02/Grizzly-Rose-Live-Country-Music-Logo.png
admin
2016-07-05 03:38:54
2016-07-05 03:38:54
Old West Museums in Denver