We're excited to be hosting Thompson Square once again on March 3rd. Click here for tickets. We had the opportunity to chat with Keifer Thompson of Thompson Square, to ask him some questions about the band, his life, and music in general.
How did you meet each other?
We met each other at a singing competition and started dating almost immediately. At the time we were doing individual things, but after we started dating we were singing together at home a lot. We quickly realized we didn't like being away from each other much, so making music together just seemed like the natural thing to do. We co-exist really well and have tons of fun with it. It's been a really great thing. There hasn't been another married couple in 40 some years doing what we do. Its important being together and now we have a kid together.
What's it like working together as husband and wife? Do you ever get tired of each other?
Were human, we get sick of each other, we have some fights. But it works out most of the time!
Congratulations on the birth of your child about a year ago. How much has that had an impact on your music career and schedule?
Everything has to be great! We don't have any time for mediocrity and we're very busy. Cooper has been a huge inspiration for us and brought a lot of emotion to our songs. We've got a fantastic nanny which helps a ton. He's a great traveler too. We are very fortunate to have our family together so often!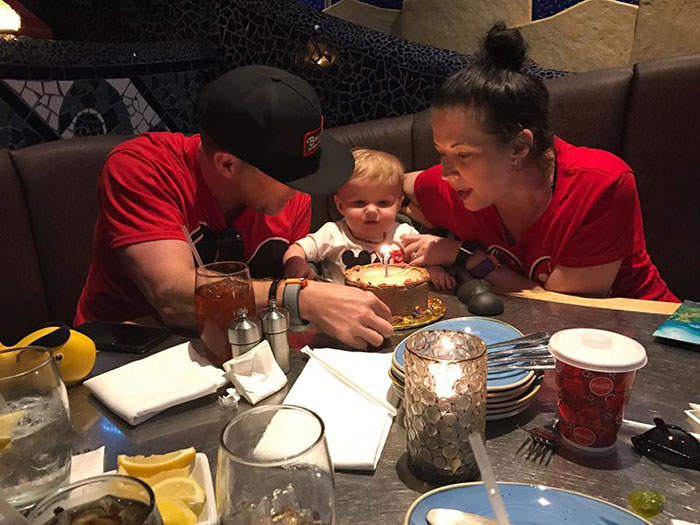 Will you encourage your child to be a country musician?
We will encourage him to do whatever he wants to do. He's already got the music bug, we can see it. He's already rocking out all the time. We think he's got rhythm inside him. But we will encourage him to follow his dreams no matter what they are. Open our eyes to what he's in to. If he wants to be a soccer player, let's do it. I'll get him shin guards, lessons, or whatever he needs. We would like him to learn an instrument even if it's just as a hobby or for his cognitive development. However, if he really likes music, we would love it and support him in that for sure!
Have you played at the Grizzly Rose before?
Many times! At least 6-8 times so far, it's one of our favorite venues in the whole country. Our shows have always been packed and sold out. There's a great energy in that place. Honestly, we wish there was more places like the Rose. We really are looking forward to coming back!
Where was the most memorable show you ever played?
The first time we played the Opry, that's always something to remember. Also, when we played a show in Grand Rapids it was the first time the audience knew all the words and sung 'Kiss Me' back to us. It was a really good feeling! The VMA awards was also a big one.
If at this point in your life you could no longer work as a musician or in the music industry at all, what profession would you pursue?
I would probably build motorcycles. I love tinkering with old motorcycles. I also love to cook. One day we may get into the restaurant business. That could be a fun adventure.

Who were your biggest influences?
My parents listened to a lot of Elvis Presley so I was influenced by him quite a bit at a young age. Merle Haggard made me fall in love with his song writing. Bruce Springsteen made me want to be an artist. Steve Ray Vaughan made me want to play the guitar. To be honest I was influenced by so many people. I fell into Bob Dylan's beautiful music 'hole' for a long time and had to consciously pull myself out of it because it had such a profound influence on me. I love Tom Petty. I even think Justin Bieber's last singles were good! In other genres I think Eminem was one of the most innovate artists out there. It's seriously intimidating what he can do with words.
What moment in your life did you feel the most country?
I had a belt buckle you could eat dinner on when I moved to Nashville. I dressed in a cowboy hat, boots and all that most of my life. I'm a country guy. I grew up on my grandpa's farm. We used to pick our own potatoes. The first thing I drove was a 1930 Ford tractor! I knew how to plow and all that. I have always been around a country lifestyle. My dad was a salesman who lived in a 3 piece suit, but at home he was always in Wranglers. That being said, I can't stand when people judge country by just clothes. No matter what people wear that stuff is embedded in them. I might live in the city, but always will have country inside. Shotguns my whole life. Shawna was raised on a farm as well. Were just two country people.
What was the best show you ever were in the audience before (any genre)?
I always had a problem with going to concerts. It's like watching football when you want to be an athlete. Tesla and Great White was the first concert I went to. KISS blew me away. I've seen them 3-4 times and they are amazing to me. They talked before each song which is a 'no-no' in live music, but they are so big it doesn't matter. Those were my favorite shows until I saw Springsteen in Jersey. It was the first show after Clarence died. I've always been a huge Springsteen fan. He's made a big impact on my songwriting. That one Springsteen show though was just incredible. I had just read the book about Clarence it was a gift from Shawna. With Clarence on the jumbotron as a tribute, Bruce played 3 hours or more and he's in his mid-sixties! I felt like you had to pull him off stage to make him stop. It made me want to up my game as an entertainer. He's the only artist that I really noticed that keeps getting better and better. I never thought I would say that. He just continues to evolve. He's so impressive. Don't know if I could do 3 hours every night like he does.
I also saw Pink Floyd on the Wall Tour at Yankee Stadium. I wasn't even a fan of their music per-say, but the show kept me on the edge of my seat the entire time. I barely knew their music, but I was completely captivated by it.
Which song is currently the most fun for you to perform live?
You make it look so good. It's a new fresh song that was written for us. One of my favorite things in our shows that we do.
https://grizzlyrose.com/wp-content/uploads/2017/07/Sam-Riggs-Interview.jpg
500
800
admin
https://grizzlyrose.com/wp-content/uploads/2020/02/Grizzly-Rose-Live-Country-Music-Logo.png
admin
2017-02-13 09:03:46
2017-02-13 09:03:46
Thompson Square Interview