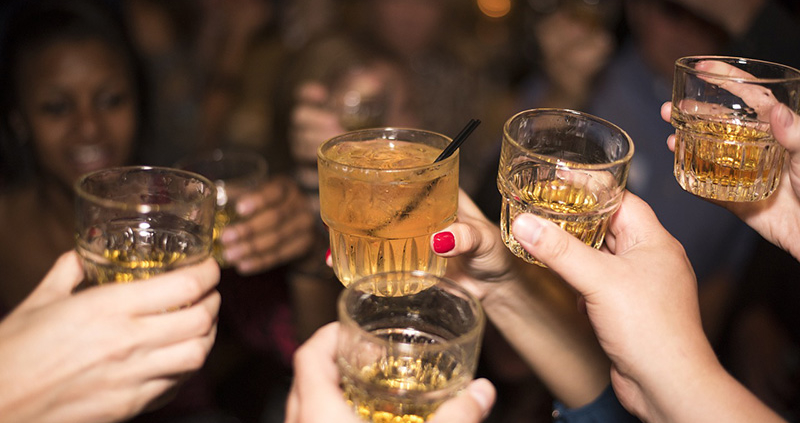 Country music is what fuels our passion at the Grizzly Rose. All week long we rotate it through dance lessons, hangouts, live concerts, and, yup, especially during weekly specials and Happy Hour. Whether we're in a feel-good mood, or just in need of a dose of nostalgia, there's nothing quite like country music to get our blood pumping and our feet moving. We are inspired by the artists we listen to and all the stories they cover.
One thing we're always trying to figure out is, what are the best country drinking songs? Certainly, drinking in its own right can make us giddy and ready to dance. But when paired nicely with a great country jam, the combination can be flat out intoxicating. Feel free to disagree, we know everyone has their own preference, but here's our shortlist of the top country drinking songs in 2020, with a few hat tips to the classic, too.
Want to add something more to this mix? Head over to our Facebook page and comment on our latest posts on your favorite drinking songs!
Best 2020 Country Drinking Songs
As a foreword, we didn't put much thought into the arrangement of this list. Take it as you will, but if you find yourself with a whiskey or beer in hand and you're joining us for Happy Hour, tell us to turn up the volume on these amazing awesome country tunes.
Of course, this is the first song on the list. The ultimate country drinking song and when combined with alcohol it's nearly guaranteed to create a bar wide sing along. Originally released in 1990, it can be considered a "classic" by today's standards, but nonetheless, one of the best country drinking songs. We all seem to relate to those lyrics, though, right?
'Cause I've got friends in low places
Where the whiskey drowns
And the beer chases my blues away
And I'll be okay
---
Not every drinking environment is a bar or a party. Sometimes you just want to hang out with your friends nowhere in particular just talking and killing time. This song is about a similar situation, with the singer just kind of bored and passing time.
Luke Bryan is a more recent country star, with his debut album launching in 2007 and this song, in particular, showcasing later in 2009. He is definitely a crowd pleaser and continues to kill it on the country music scene. Grizzly Rose definitely plays more than one of his tunes weekly, and we're always excited to hear this one. Can we talk about those lyrics?
Sittin' here
Waitin' on a deer
Drinkin' beer and wastin' bullets
Aiming at the empties
Missin' hittin' pine trees
Ain't my fault them cans keep movin'
---
Drinking is always better when you have a good excuse, err- good reason. A good starting song to kick off the night, or afternoon, and say goodbye to the tedium of the workday that came before. Whether this phrase was adopted because of the song, or the song from the phrase, we're not sure. We'd like to think that good country drinking songs inspire worldwide movements. And if you haven't uttered these words before, we'd be hard-pressed to believe you.
Alan Jackson released this song back in 2003, but it will remain among the list of top drinking songs in country music. After all, it always five o'clock somewhere.
And pour me somethin' tall and strong
Make it a Hurricane before I go insane
It's only half past twelve, but I don't care
It's five o'clock somewhere
---
We love a good girl power song any day! But this one hits close to home as Runaway June just recently played live at the Grizzly Rose in February 2020. As far as girl bands go, they're rising stars in country music. For this song, in particular, you'll be excited to celebrate a girls' night out with your BFFs. Strong, independent women everywhere will be raising their glass in sync to this tune.
I can buy my own drinks
I can pay my own tab
At the end of the night when they cut on all the lights
I can call my own cab
I can drop my own change in the jukebox
I can dance all by myself 
---
While definitely a lot more mellow than some of the other selections on this list, the same "feel good" vibe is still here. This song is a celebration of all of the little things, good and bad, that can be found within Western bars and bar culture. Not to mention, Toby Keith remains a legendary country star and will continue to have fans everywhere requesting a toast to his tunes.
Can you blame us, though? These lyrics are on point with a great night at a bar.
I love this bar,
It's my kind of place.
Just walk in through the front door,
Puts a big smile on my face.
It ain't too far, come as you are.
Mm, mm, mm, mm, mm, I love this bar.
---
There's something about Merle Haggard's voice that just pairs well with alcohol. Most of us have felt exactly how Merle does in this song and no matter what's happening in the world around us, we'd rather 'just stay here and drink.' Throwing a classic into our mix is a must! This will always be among our favorite country drinking songs and for good reason!
Hey, putting you down, don't square no deal
Least you'll know the way I feel
Take all the money in the bank
I think I'll just stay here and drink
---
'You and Tequila make me crazy'. A romantic, drinking ballad from Kenny Chesney that puts people in a good mood, especially when they are with good friends and significant others. Kenny teamed up with Grace Potter for this country drinking song.
---
Who said drinking alone was a bad thing? There's nothing quite like getting off from a long week of work, deciding on a sweet treat with me, myself, and I. Carrie Underwood, country extraordinaire, truly takes this sentiment to heart with her newest hit "Drinking Alone." A more melancholy, but still catchy country drinking song, this one will definitely leave you feelin' some type of way. Give it a listen if you haven't already because it definitely has good reason to make our list of the best country drinking songs 2020.
The misery loves company
Tonight all I need is a stranger
Lips with a whiskey chaser
And a corner booth kiss to make me forget that he's gone
Oh, we should be drinkin' alone
---
Who has never wanted to have a big ol' part on an airplane? This is a great country drinking song about lost love. The video is also hilarious with cameo's from Bentley as two different characters. And we definitely love them both. If you're in the mood for a more upbeat drinking tune, look no further. For the record, we hope we get to ride on a plane with him someday! I mean, does this not sound like a part…?
Buyin' drinks for everybody
But the pilot, it's a party
Got this 737 rocking like a G6
Stewardess is somethin' sexy
Leanin' pourin' Coke and whiskey
---
10. Brad Paisley
Alcohol
Drinking does things to people, both good and bad. This song is all about the things possible with alcohol and how it can affect people's judgement. If that alone is not enough to make you wonder why we have it on our list, then look no further than the actual title. Duh! If any artist were appropriate for country drinking song choice it would most definitely be this one!
Personified alcohol is a twist on your usual ballad or country jam, but we love it nonetheless. We also love alcohol, for all of the good and bad times. Thumbs up if you agree!
I am medicine and I am poison
I can help you up or make you fall
You had some of the best times
You'll never remember with me
Alcohol, alcohol
---
This song is both a country drinking song and a warning about how the more you drink, well the more you drink. It's a very honest song that probably hits home with a lot of drinkers for the better or worse. That being said, it's a fun, catchy tune that also goes great with good friends and booze!
And in case you've forgotten, before Blake Shelton was a top judge on the Voice, he was a wild country card depicting wild drinking nights. It all hits home when we watch this throwback video of young Blake. Hats off.
'Cause the more I drink, the more I drink
Yeah, I'm the world's greatest lover and a dancin' machine
I get loud, I get proud, and it gets worse
---
A classic country drinking song, especially if the sun hasn't set yet! This fun video and great sing along song is perfect for when you get off work early. It's a happy hour favorite for country music fans.
Day drinking? We all do it, and probably more frequently than we'd like to admit. But if you're gonna day drink, at least turn up the volume on this great tune by one great band.
Don't want to wait til the sun's sinking
We could be feeling all right
I know you know what I'm thinking
Why don't we do a little day drinking
---
Country drinking songs are not limited to more recent hits. Whiskey River is an old school country drinking classic by none other than the legend that is Willie Nelson. If you're drinking Whiskey with some buddies this is a fantastic song to listen more than once. Again, personifying alcohol is never a bad thing. A true classic for the best country drinking songs, but always among our favorites.
Whiskey river, take my mind
Don't let her memory torture me
Whiskey river, don't run dry
You're all I got, take care of me
---
Love and Whiskey are both complicated things for many people and Hank does a great job of describing why. This is one of those songs that needs a bottle of Jim Beam sitting on the table while you are enjoying it.
Every time we listen to this song we can't help but think: same! Because there's nothing quite like finding our emotions at the bottom of a smooth glass of our favorite bourbon. If you're in Denver, be sure to stop by the Grizzly Rose and come toast with us!
And I end up with some honkytonk special I found
Just as sure as the mornin' sun comes
Thinkin of my sweet girl at home
And I need to get whiskey bent and hell bound
---
Not everyone is cut out for digging holes or working in a bank. Some of us are just pretty good at drinking beer. This is a nice country drinking song for those who like to drink beer with their buddies in their free time. Still a new-ish hit by the standards on this list, but a great way to get yourself into that honky-tonk mood. For the record, we really love watching this official music video, too! We also couldn't agree more with these lyrics…
So hand me one more
That's what I'm here for
I'm built for having a ball
I love the nightlife
I love my Bud Light
I like 'em cold and tall
---
If you really want to hit someone in the nostalgia, this song will do the trick. Just imagine it- you've been out all night drinking with your closest friends, the bar's about to close, you guys are downing your last drink, and this song comes up on the jukebox. A bittersweet ending to a fantastic night. Definitely sing along to this old-time classic by one of the greats!
Happy trails to you, until we meet again.
Happy trails to you, keep smilin' until then.
Who cares about the clouds when we're together?
Just sing a song and bring the sunny weather.
Want to list to some more good country drinking songs? Check out our Country Drinking Music Playlist on Spotify.
https://grizzlyrose.com/wp-content/uploads/2017/10/Country-Drinking-Songs.jpg
500
800
admin
https://grizzlyrose.com/wp-content/uploads/2020/02/Grizzly-Rose-Live-Country-Music-Logo.png
admin
2020-03-11 09:00:34
2020-10-13 13:31:25
Country Drinking Songs